Papyrologie in Würzburg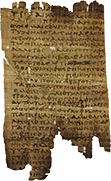 Die Würzburger Papyri werden in der Abteilung Handschriften und Alte Drucke der Universitätsbibliothek Würzburg aufbewahrt.
Der Katalog der Papyrussammlung wurde 2007-2009 dank der Förderung durch die DFG erstellt. Ziel der Arbeiten war die Katalogiserung, Digitalisierung und Sicherheitsverfilmung des existierenden Papyrus-Bestandes.
Die Aufnahmen führte das Digitalisierungszentrum der Universitätsbibliothek Würzburg (P. Ruff, M. Dittrich) durch, die Katalogisierung H. Essler.
Die Implementierung und Bereitstellung der Katalogdaten im Internet erfolgte auf Basis des Open Source Projektes MyCoRe, welches von einer Reihe deutscher Universitäten entwickelt wurde, und des Referenzprojektes Papyrus-Projekt Halle-Jena-Leipzig.
Die Würzburger Papyrussammlung ist Gründungsmitglied des Deutschen Papyrusportals. Ein Abriß über die Geschichte der Sammlung befindet sich auf der Seite der Abteilung für Handschriften und Alte Drucke der Universität Würzburg.
Einen Überblick über den Publikationsstand der Sammlung und eine Beschreibung ausgewählter unpublizierter Stücke gibt der Vortrag von H. Essler auf dem 24. Internationalen Payprologiekongress in Helsinki 2004 (Vortrag als pdf).
Die 216 Papyri der UB Würzburg sind in einer digitalen Datenbank erschlossen. Dort stehen Abbildungen und Angaben zum Inhalt, zur Datierung und zur Bibliographie zur Verfügung.

Aus der Sammlung ist bisher ein Editionsband veröffentlicht:
Wilcken, U., Mitteilungen aus der Würzburger Papyrussammlung. Mit drei Tafeln (Berlin 1934. APAW 1933, 6).

Einen Überblick über die Sammlungsgeschichte und eine Aufstellung der Einzelveröffentlichungen gibt:
Essler, H., Über die Würzburger Papyrussammlung, in: Proceedings of the 24th International Congress of Papyrology Helsinki 1.-7.8.2004, Commentationes Humanarum Litterarum Volume 122 (2007), S. 291-298.
Seither ist noch erschienen:
Essler, H., Ein Homerpapyrus aus der Würzburger Papyrussammlung (P.Würzb. Inv. 33, Od. VII 112 - 167), Würzburger Jahrbücher für die Altertumswissenschaft 32, 2008, S. 5-10.